I saw Ashley at Life with Moore Babies pound flower prints with her children last week and I knew my son would love this activity!
We collected flowers and put them between two pieces of paper.  (He became distracted by daddy's tractor in the yard — that's his sweet little head on the tractor.)
Next we pounded them with his hammer.  (He, as you can imagine, was a little over-zealous with this part.)
And woh-lah, a sweet little Picasso.  We kept the flowers on, instead of peeling them off, and taped it to our kitchen window for a super-easy craft painting!
Happy playing,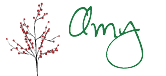 Thank you for taking the time to leave a comment!  ♥