How to Make a Felt Viper {ABC Animals in Felt}
{This post contains affiliate links, please see my disclosure policy.} 
I am creating a felt animal for my son for every letter of the alphabet in a new series: ABC Animals in Felt!
This week has been devoted to the letter V.  I could have made a vulture, but since I don't really like vultures and we already made a bird last week (U is for Umbrella Bird), I didn't give John a choice :)  A Great Horned Viper is super cool and a bit scary, but John says this is his favorite so far!  (All boy.)  He was excited about his felt viper!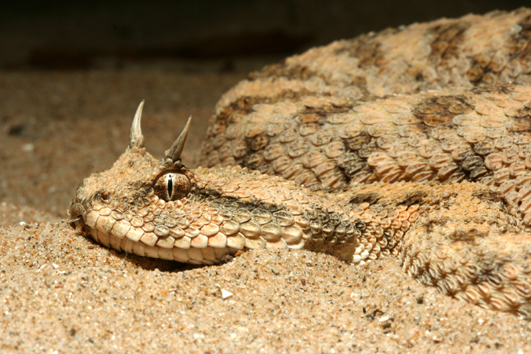 All you need to make a Felt Great Horned Viper is:
felt: tan, brown, pink, lime green, black (or you can use paper!)
cotton balls
hot glue gun (or Elmer's if you're just using colored paper)
amazing Fiskar scissors (if you're going to work with felt at all, you have to check these scissors out!)
** This craft uses a hot glue gun — please keep out of the reach of children — these are for adult use only!!
This is the only way this makes sense to me.  I cut the picture I drew out (free printable at the end of this post!) into pieces. Then, I assemble all of my felt pieces — I cut two each of the two long snake bodies and head.  Tip: I cut the bodies a bit wider than the printable suggests — this way you'll be able to fit your cotton balls inside when you're trying to hot-glue it together.  
I made a bunch of brown spots for the back of the snake, they don't need to all be the same.  I also cut some little lime green eyes and glued on a tiny black felt line on for his eyes.  
I glued the body together and then filled one side with cotton balls and carefully glued the back of the snake on top.  I have found that it is easiest to have a fork handy to press the two sides together — this prevents burning your fingers….
This felt project was definitely the most time-consuming, but it was worth it!
Here is the viper's mouth.  I glued the pink mouth between the two tan mouths and then glued it on top of the body.  This was done by the seat of my pants, not super technical.
I made four white rolls — two for horns on the top of his head and two for his big fangs inside his mouth — I simply rolled a little piece of white felt, hot-glue-gunned it and cut it until I felt the looked "right." 
And now his horns are on his head!  Scary looking!
And he is done!  A labor of love!  My son couldn't wait to play with him.
 My son absolutely loves his Great Horned Viper. And some play-time pics with his viper eating his little animals….
I made a template, and a coloring page, for you to make your own viper!  I am not an artist, but I hope you find this helpful!  
{By downloading, you are agreeing to my Terms of Use.}
You can download the Viper printable here!
Book Extension
If you're looking for a wonderful book to read with this activity, the letter Vv book from AlphaTales is all about the Viper.  I like that this book also talks about Valentine's Day, which is another great V word still on the mind, though this is not the Great Horned Viper, I doubt that kids will be too upset by that :)  Vera Viper's Valentine!  
Other Posts in the ABC Animals in Felt Series:
Here they all are, on our floor, where they are often, all around the house.  Oh well, they will be well-played with.  We'll see how long they hold up :)
Happy Crafting,
I'd love if you'd follow me on G+ and Facebook!  And please share on Pinterest! ♥