Montessori Earth Day Activities
Bringing our children into nature and telling them why we love and care for our beautiful Earth is one of the most important thing we can do as teachers and educators.  I have collected our Favorite Montessori Earth Day activities to inspire you today on Earth Day, but also to emphasize that any day can be Earth Day!  Any day we can bring our children outdoors to explore nature, dirt, little critters, how to recycle — and in this whole process they are learning!  They are learning important skills to foster independence as well as language, mathematics, practical life and fine motor skills, and exploring different sensory experiences.
Make sure to click through to find out how to create these activities at home — these ideas are from all around the Kid Blogger Network!
The following Earth Day Activities explore the four Montessori principles of Language, Mathematics, Practical Life, Sensorial.
Language
Amazing free Earth Day prinable packs for Preschoolers, Kindergarten, and First Grade at Royal Baloo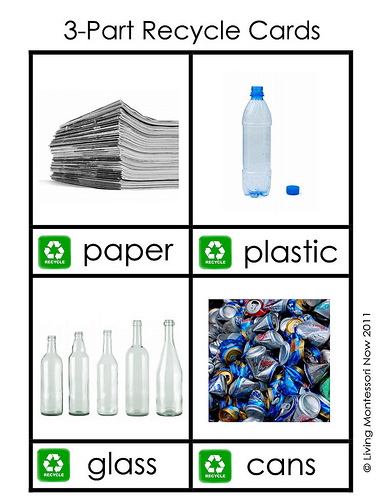 Recycling 3-part cards at Living Montessori Now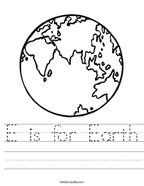 Earth Day Handwriting Sheets from Twisty Noodle
Free Sorting Recyclables cutting sheets from Totschooling
Flower & Bulb Identification Cards from Wildflower Ramblings
Many more Earth Day Free Printables are listed over at Living Montessori Now!
Mathematics
Recycling Bin Subtraction and more Reduce Reuse Recycle Montessori Trays from Every Star is Different
Counting with nature objects at the Math Nature Table from Wildflower Ramblings
Two Fun Earth Day Math Activities from Fun-A-Day!
Counting Earths with Montessori Math Beads from Carrots are Orange
Preschool Leaf Math at Hip Homeschool Moms
Practical Life
Making the perfect Mud Kitchen for your child from Tinkerlab
Lorax Recycling Labels Punching Activity and other Dr. Seuss' Lorax Activities! from Living Montessori Now
Collecting flowers and putting in vases from Wildflower Ramblings
Earth Day Transferring Tray and a long list of Free Earth Day Printables from Living Montessori Now
Sensorial
Free Earth Play Dough Mat from The Preschool Toolbox
Earth Day Discovery Bottles from Little Bins for Little Hands
Earth Day Sensory Bin from The Good Long Road
An oil spill effecting endangered animals and more Montessori Endangered Animals Trays at Every Star is Different
Finding Earth words in a rice sensory bin from Fun-A-Day!
Hiding trash and pollution in a dirt sensory bin and other amazing Earth: Pollution trays from Every Star is Different
So many ways to explore Earth Day every day!!  I hope you are inspired by these Montessori Earth Day Activities!  Most importantly, our children will learn to cherish and protect our Earth by being outdoors in nature and watching us, their parents and teachers, taking care of the Earth!  Enjoy the sunshine (or rain!) together today :)
This post is part of the Earth Month Natural Parenting Blog Hop!