We just completed our Dd week and John had a blast!  We studied dogs, ducks, donkeys, and dad : )
{This post contains affiliate links, please see my disclosure policy.} 
This schedule keeps things ordered.  I've type-written in what I want to do as far as language, and I make sure that I also fit in at least an additional sensory and practical life activity per week.  I use Homeschool Creations' great Preschool Schedule.

Every week, I put out six tot trays out for the week and I try to be intentional with activities  that correlate with each of the four Montessori learning categories: Language, Sensory, Mathematics, Practical Life.  Our Tot Trays are out on our shelf all week.  John can play with them at any time, but sometimes I'll take one out intentionally for us to play together.
This week, we had a purple sensory bowl. John likes to play "guess" with this — we put a cloth on top and he guesses what he is touching — "a purple…..!"
A car parking lot!  At first I didn't put the numbers on the cars, but he was lining the cars up so nicely that I decided to challenge him.  I put little stickers with numbers on them, and I am so impressed by how well he matched the numbers on the cars to the numbers in the "parking lot".  This shows me that if I challenge him — he can succeed!  Dad played this with him which motivated him to look at the shapes of the numbers, as well : )
John also enjoyed this simple activity — opening a spice jar and sticking the stems in the holes!
John loves these Melissa & Doug Pattern Puzzles!  He can do these too fast, I have to find something a little more difficult for him.  (We have pattern blocks and I have printed out some shapes and animals from Prekinder.com, but he can't quite do it because they don't "fit" — any suggestions?)
Painted eggs and egg carton match.
Our Lauri pegs letter D!

Bible verse of the week:
He will take great delight in you.  Zephaniah 3:17
We use the ABC bible verse songs from Songs for Saplings.  These songs are so catchy, beautiful, not "children's music annoying," and I find myself singing and learning and memorizing the bible verses along with John.  Carisa at 1plus1plus1equals1 has made coordinating ABC Bible Verses posters which have really helped with his memorization as well.  
Letter of the week: Dd
Our curriculum consists of 1plus1plus1equals1's Tot School ABC's.  We don't do everything that she includes in her packs, but we do most.
We put up our bible verse, a Dd small poster from Tot School, and I just got these wonderful Montessori sandpaper letters.  Can you believe they are only $13 from Amazon for upper and lowercase?  I was so excited to find these, they are very sturdy cardboard and I think they will last a long time!  We put them up on the wall as well so he could feel the letter every morning and whenever he wanted to!
Coloring his D is for Duck page from 1+1+1=1's Farm Animal pack..
Do-A-Dot markers on his D is for Duck page.
Here we are using dry erase markers on heavy duty sheet protectors —  coloring the little ducks in the Dd. We have these thin tipped markers.
We also took out his Tot Time Notebook, created by Carisa at 1+1+1=1, as a little review.  This is so fun for him — he has all his ABC pages in a three-ring binder and I put them in heavy duty sheet protectors, so he can color with dry erase markers and erase easily and do it again!  This is an awesome tool, and I am again, grateful to Carisa for thinking of and sharing it!
Here is John with his magnet page from Homeschool Creations and Making Learning Fun.  We bought some cheap magnets from Amazon, and switch them out every other week with these cute pom pom magnets.
We also made a cute little Donkey from the Arts and Crafts for 2s from Abeka. I really like the pictures in this book and he enjoys painting them and coloring them too!
Another resource in 1plus1plus1equals1's Tot School ABC's is a vocabulary page relating to her object or animal for the letter of the week.  John especially enjoyed this week's vocabulary page and we learned all about different types of birds (because Dd is for Duck!)  We put it on the wall so we could talk about the birds' names and their features regularly.
We put his work on the clothesline above his bed, between two windows!
We played with his playdough mat with his gluten-free play dough on 1plus1plus1equals1′s awesome Animal ABC Playdough Mats!
We also used the dump truck pages from Royal Baloo's Terrific Truck ABCs.  John loves everything truck, so these are perfect — they are on the right in the picture.  We hang our pictures up on a clothesline above his bed.
We also took advantage of 1+1+1=1's Powerpoint presentations!  Check out how you could get these too!
Book of the week:
I love the Five in a Row curriculum, the premise is that you should read the same children's book to your child for five days in a row, all week.  We have Before Five in a Row, and are reading through some of the books in there and also picking books according to our season, theme, or interest. Homeschool Creations and Homeschool Share have many printable resources for the Five in a Row series.  Other wonderful moms have provided literature-based printables on their sites too.  I am taking full advantage.
Our duck sensory bin was fairly simple.  I have not yet gotten the bug to go out and buy tons of stuff for my sensory bins…. All that is too expensive and too much space is needed to be properly organized.  I'm not saying I won't get there in wanting to add tons of intricate things, but right now, we're keeping it simple.
I made my pond sensory bin with rocks, fish greenery, a big rubber duck, two little duckies and a pelican thrown in for good measure.  He is older since the last time we did this one and loved holding the rocks, sorting them into little white containers.
And he also loved throwing them…. He helped clean up… sort of : )

Mini book of the week:
Our mini book this week was a wonderful little song book of "The Little White Duck" from the Arts and Crafts for 2s from Abeka. I laminated it and put a little binder ring on it.  He kept wanting to sing it over…and over… and over….
John loved playing with his bead maze.  This has been in our basement toy room, but is now really able to concentrate.  He talks about the beads' colors and shapes!
His pattern puzzles and car parking lot were math-oriented, but now I see we'll have to challenge him more with numbers 1 – 5 since he has shown an interest!
Eating gluten-free pancakes with a D in blueberries :)
I love that the Tot School ABCs curriculum already has a lot of sensory elements.  Pom pom magnets, play dough, using different writing materials.  We try to be intentional with at least one or two additional sensory activities per week as well.
We have also enjoyed going to a weekly toddler music class.
Our Dd collection on our refrigerator.  (We use a lot of Melissa & Doug magnetic letters and his Leapfrog Magnetic letters — I found this at a garage sale, but I would have paid full price!)
This week, we had more snow time!

Washing the sink for mom (don't worry, just with vinegar and water!)
I need more practical life ideas.  I have found tons at Counting Coconuts, but her trays are so beautiful and there is a lot of stuff to "buy" — any other great links to share?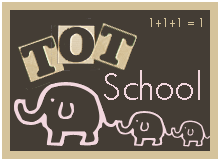 If you are interested in receiving new posts, please follow me on Facebook: