Cloth diapers: How to wash them so they are actually clean
I have been cloth diapering for over two and a half years now.  I have cleaned my fair share of diapers.  So this advice is legit.  
I will first start off with saying that I have well water and I have a top loader Our water is full of iron and minerals and who knows what else.  Therefore, I had to try a lot in order to get the perfect wash routine.  And as for a top loader vs. a front loader — don't you need water to get things clean?  I don't understand how the "energy efficient" washers work — and in my experience, at my mother in law's house, they don't work all that well.
What didn't work: Allen's Naturally and Rockin' Green (yes, even the Funk Rock).
What I am using now: This is not a "recommended" brand, but it has gotten my diapers cleaner and brighter and whiter than they have ever been.
Tide Free and Gentle!
Here is my down and dirty routine:
The child goes in the diaper.  I

f it is pee, I throw it in my hamper with a diaper pail liner (I use a white trash can that has a foot pedal).  If it is solid, I dump it into the toilet or use some toilet paper to scrape it into the toilet, then it goes into the hamper.  (A diaper sprayer did not work from me, it sprays the stuff all over = gross.) 
Once my diaper pail is full, I bring the diaper pail liner down to the basement and throw it all in the washer (I have a beloved top loader (I really don't know how a front loader, energy efficient washer gets these diapers clean!!)  I cold rinse.
I hot wash, cold rinse with 1/8 cup detergent – a little goes a long way!  (I only have the option to cold rinse, but I would hot rinse if I could!  Then I might cut one of the rinses!)
I hot wash, cold rinse with nothing.
I dry in the dryer (gasp!) on low.
"Stripping" your diapers once every month or two should be part of your regular routine — this is because your diapers may be getting leaky due to build-up or they just may need a good sterilizing:
Add 1/4 tsp dish soap and 1/4 cup bleach to your hot wash, cold rinse with detergent

Continue to hot wash, cold rinse until there are no more suds in the washer.  (About 5-8 times.)
 Happy diapering and washing!
Thanks for visiting
Wildflower Ramblings
, if you'd like to receive post updates, please
Like my Facebook Page
!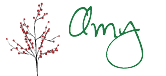 Thank you for taking the time to leave a comment!  ♥