Our Advent plans this year {with a list of Christmas and Jesse Tree calendar resources}
{This post contains affiliate links, please see my disclosure policy.} 
Yes, it is Advent.  11 days in.
And I just started.  Regretfully, I have not been able to do loads of fun crafts and my bible felting stories like I normally would. My broken arm has made many things physically impossible.  But last weekend, we got Christmas together!  I am a week late in starting our Advent countdown to Christmas, but so what?!  We will do two days at a time until we are caught up.
What is a Jesse Tree?
I have been studying up on what exactly a "Jesse Tree Tree Advent Calendar" is, and I found many free resources online.  After downloading and figuring out the best fit for our family's needs right now, I figured out what I want to do.  First, a definition:
A Jesse Tree Advent takes your family through the Bible to the coming of Jesus.  It follows the prophecies of the Messiah and lineage of Jesus for a Gospel-focused December month.
I love this concept.  And it doesn't need to only be used in December!  Many Bible stories are discussed, so your family can enjoy, and expand, these Bible-reading sequences multiple times over the year.
Here is a list of amazing Jesse Tree free resources that you can print at home!
Our Advent Plans
I looked through all of the materials available, and thought about my own restrictions and availability, and decided that the core of our Advent learning will be reading The Jesus Storybook Bible.  We will use the amazing free printables: Jesus Storybook Bible Advent Calendar Printables from Faith Gateway.  Each day, we will read a five-page or so passage from this amazing Bible.
The first passage included this quote, which sets up the why of Christmas:
 It's a love story about a brave Prince who leaves his palace, his throne — everything — to rescue the one he loves."
I love love love this bible reading calendar so far.  We haven't really read through the Jesus Storybook Bible yet, but it seems that this is the perfect time.  My son loves the pictures and is beginning to "get" the beautifully written, poetic words.  My son loves matching the picture to the one in the book too :)  I cannot recommend this Bible, or these free printables as a reading guide for any time of the year, more highly!!
My plans include lots of little pieces of laminated paper — and I made these little Advent envelopes last year — they are hung on two strings behind our couch. (Here is my post from last year with the details.)
Unfortunately, some of the materials I've chosen don't fit in the tiny envelopes, but I'm not going to let that ruin my Advent fun!  :)  I am still clipping everything together with tiny clothespins on a string behind our couch.
Each day of our Advent includes:
We will hang the alphabet posters, the Bible passages, and the coloring pictures up on the back of the basement door.  I hung up some pretty red ribbon with those amazing re-usable 3M hooks.  I love those things!!  No residue or paint stripped.
We also have a sweet Advent box, a gift from my mom, to hide a sweet treat in the correct door every morning.  Here is John at his table with his Nativity and Bible.
I am planning on making some Christmas crafts and ornaments with my son, but I'm not stressing too much about it.  I may use some ideas for ornaments from Truth in the Tinsel or from my growing Christmas Pinterest board.
More Christmas resources
We will also be reading through this beautiful new book from Ann Voskamp: Unwrapping the Greatest Gift.
We keep our printables for each season and holiday in envelopes and bins from Target.  Check out this post for more details.
I love all of the below free printable resources — hopefully this list will make searching for the just-right Christmas and Nativity resource easier!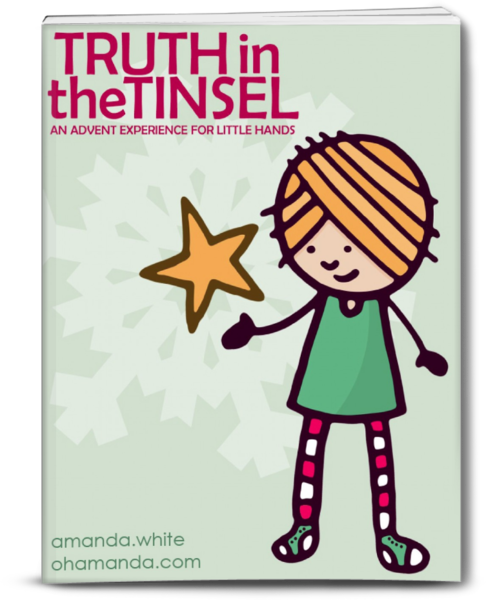 Another program that I absolutely love is Truth in the Tinsel.  This program, unlike the Jesse Tree concept, is centralized on all the elements of the Nativity story.  It includes some of the prophecies of the Old Testament, but doesn't go through other earlier Biblical characters.  It includes a lesson, a coloring card, and a simple, but adorable ornament idea for the 25 days of December.
If I had things together (namely, my arm together), I would also be doing Truth in the Tinsel with my son this year, along with reading Unwrapping the Greatest Gift.  But instead of trying to "do it all", I am going for a more simple (at least in my mind) Advent plan — the one I described above.  But next year, I am doing this.  I am going to follow Carisa's idea at 1plus1plus1equals1 and put together all of the ornament supplies ahead of time so I can enjoy each day rather than be stressed about each one!
After all, any crafts or Jesus learning and celebrating should be enjoyed by mama as much as the little ones!  And Christmas, after all is about Him, but more importantly for Him.
Merry Christmas!
ps — come back on Friday and you can download my free printables for The Little Drummer Boy!  I am so excited to share them!!
If you are interested in receiving new posts, please follow me on Facebook: