making a handprint on canvas every year
I saw this idea on Becky Higgins' blog.  The idea is that you have a handprint for every year of your child's life.  
We started our handprint canvases when my son was 2 and 7 mths and my daughter is 6 mths.  We will do it again to have a 3 year and 1 year hand print and then we will do it every year from then on.  We will do a different color combination each year and make sure to write the date and name of the child on the back of the canvas.  It's amazing to see how many canvases Becky has — what an amazing keepsake for our children!  Our sweet handprints are hanging on our wall in our living room — the best art you could ever ask for!
All you need are 8×8 canvases from Michael's (these were buy one, get one free — I thought 6×6 would be fine, so I started out with those, but then I had to realize, and mourn, the fact that my babies hands are going to grow, grow, grow — and my baby boy's hands will be man's hands one day!).
And you need your desired color of acrylic paints.  I painted them twice to make sure that they were fully covered.
I don't have any pictures of getting the actual handprints — I was very nervous and meticulous — but we came out unscathed and even my sweet baby opened her hand long enough for me to get her handprint ♥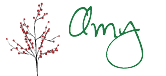 Thank you for taking the time to leave a comment!  ♥